Goat Girl hack the iconic clips of Beatlemania
Brilliant new video + debut album announcement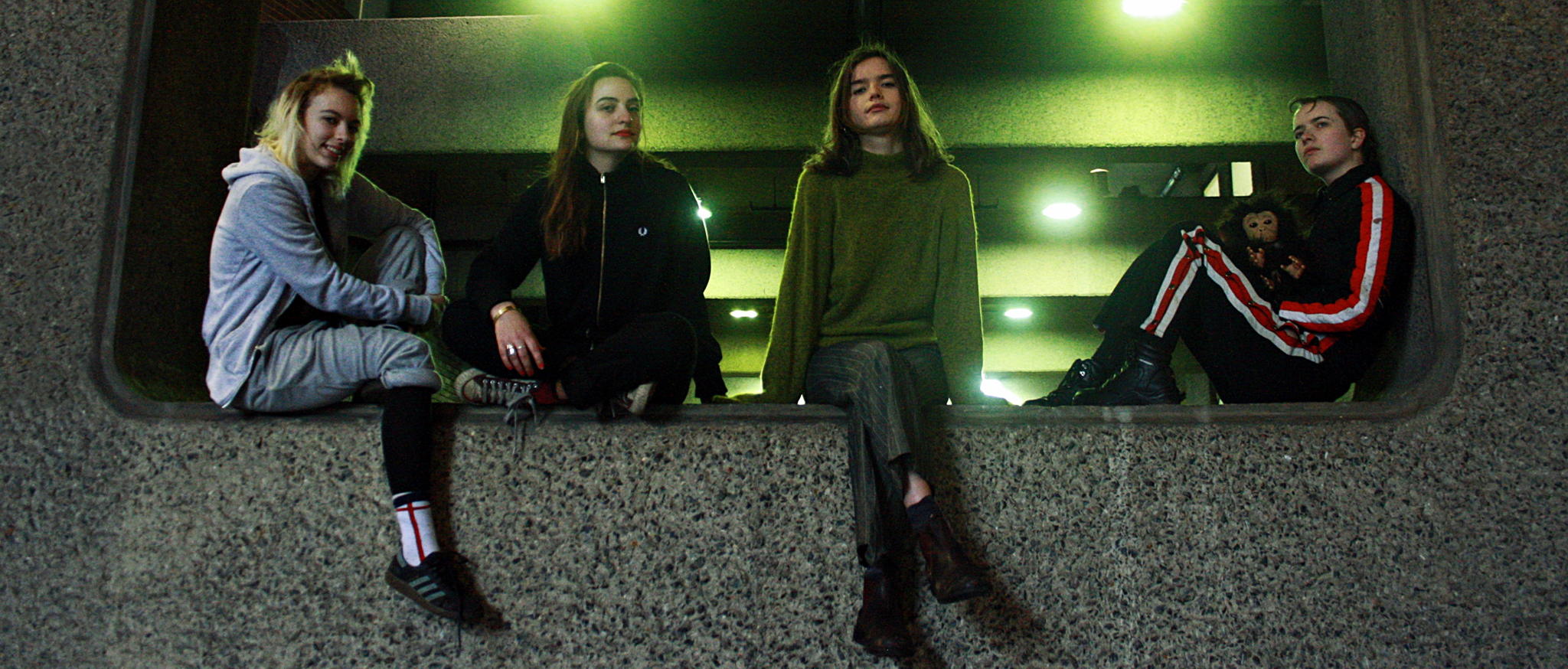 Goat Girl's adroit young Londoners are about to change and shake up UK's indie scene; they filling it with badass punk, western country sounds and smart political hints. Their debut album "Goat Girl" will be released by Rough Trade Records on 6.4.2018. (It will be available on LP/CD/DL, you can pre-order the album here. There will be a limited edition Violet Vinyl colored LP and a special bundle featuring the Violet LP and a limited-edition Fanzine art a lyric booklet, singed by the band.) The album was produced by Dan Carey (Kate Tempest / Franz Ferdinand) in his South London studio in the Autumn of 2017.
They released their brand new single, "The Man" with a brilliant and bright video, where they reproduced The Beatles' "A Hard Day's Night" scenaro with a twist. This time four girls play their rattling, lo-fi single while groups of boys freak out all around them hysterically.
Speaking to The FADER - where the premier took place - Goat Girl's Ellie said: "The concept for the video was the director CC Wade's idea. It's interesting to swap this broadly generic gender role in such an overt way. When we first sat with them at Wetherspoons and discussed it they talked about the bridge of 'The Man' reminding them of The Beatles's 'Help,' and how we could turn the predominantly female hysteric nature of that time on its head. You can take away what you want from it. I hope it makes people laugh."
You can watch the apposite video HERE!
Across 19 tracks in 40 minutes, Goat Girl's self-titled debut creates a half fantasy world out of a very dirty ugly city reality. In the groups words:
"Simply put, it's an album that comes from growing up in London and the first-hand experience of our city's devolution. We wanted to think of it as this place seen not necessarily just through our eyes, but someone who can't get past the abnormalities and strange happenings that exist in our city. We think this gives the freedom lyrically and musically to explore unspoken truths and emotions that we all as humans feel".
This world is populated by creeps and liars, lovers, dreamers and wonderful lunatics. It's a very English album - sharp-eyed observations like The Kinks, louche rage like The Slits - but it's also full of swampy swaggering guitars and Lottie's filthy drawl. "It wasn't exactly intentional to have this warped country sound, but I think that was initially what we were all drawn to and inspired by, bands that existed in a lo-fi, dissonant, scratchy context."
Goat Girl are part of a burgeoning, close-knit South London scene that includes Shame, Good Bad Happy Sad, Warmducher, Horsey, Sorry and many more. The bands are all based in around the Windmill in Brixton.
Goat Girl have built up a strong live following over the last year, headlining their own tours and supporting The Fall, Fat White Family & Parquet Courts.
Album Tracklist

Salty Sounds (interlude)
Burn the Stake
Creep
Viper Fish
A Swamp Dogs Tale (interlude)
Cracker Drool
Slowly Reactions
The Man with No Heart & Brain
Moonlight Monkey (interlude)
Lay Down
Don't Care Part 1
Hanks Theme (interlude)
I Don't Care Part 2
Throw Me A bone
Dance on Dirty Leftovers (interlude)
Little Liar
Country Sleaze
Tomorrow
The band will head out on the road this spring for a UK headline tour, dates below:
March 12-18th Austin - SXSW

March 20th New York - Union Pool

March 31ST Manchester Deaf Institute

April 1st Cardiff Wales Goes Pop

April 9th Newcastle The Cluny

April 10th Edinburgh Sneaky Pete's

April 12th Liverpool Magnet

April 13th Dublin Grand Social

April 14th Sheffield Picture House

April 16th Birmingham Hare & Hounds

April 17th London Garage

April 19th Leicester The Cookie

April 20th Leeds Brudenell Social Club

April 21st Brighton The Haunt

May 5th Hebden Bridge Trades Club

May 14th Amsterdam Paradiso

May 15th Brussels Ancienne Belgique

May 16th Paris L'Espace B

16-19th August – Brecon Beacons Green Man Festival
A few press quotes for Goat Girl
"Goat Girl are ready to turn indie music on its head

And rip its guts out" - The Guardian

"Goat Girl are the whip – smart, politicized young Londoners

breaking into the big time" - DIY
Goat Girl Album Lyrics
DOCX - 82 Kb
Stáhnout
Goat Girl Bio
DOCX - 47 Kb
Stáhnout