NYC rapper Wiki is on tour with his new album - he visits Prague in March!
Wiki @ Futurum Music Bar, 28th March 2018 supporting Rejjie Snow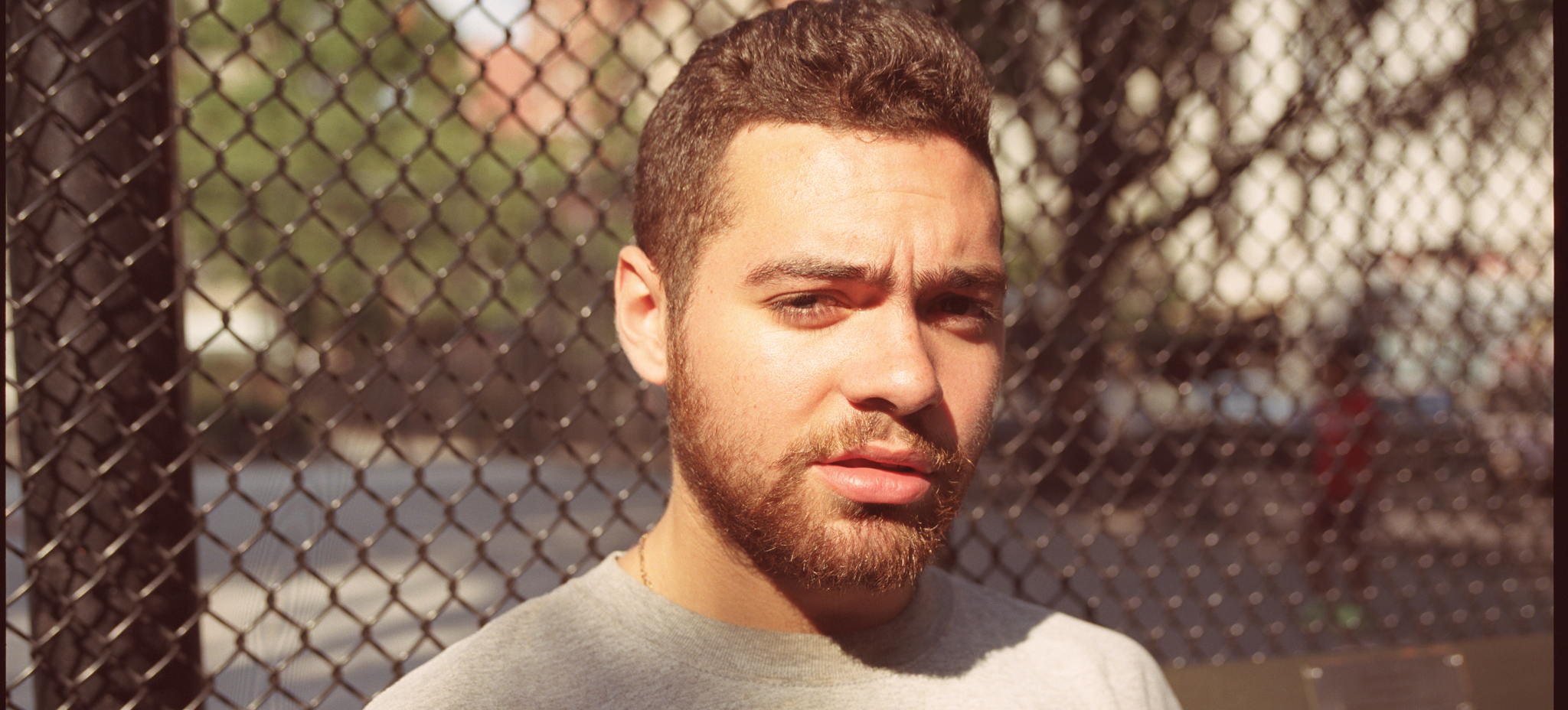 After sharing the video for the track "Mayor", Wiki - once a member of New York City-based hip-hop group Ratking - released his debut solo album "No Mountains in Manhattan". Out via XL Recordings, the album features fellow New York natives, both legend and novice, including Ghostface Killah, Lakutis, ACAB, Slicky Boy, Your Old Droog and more. Production credits include Ratking's Sporting Life, Tony Seltzer, Kaytranada, Earl Sweatshirt, and Wiki himself.
Listen to the album on Spotify - CLICK HERE!
He is also featured on Princess Nokia's current single "Saggy Denim" which is at radio in the UK.
Wiki is currently having a brilliant time in Australia and New Zealand, playing packed shows in Sydney, Melbourne, Auckland and Wellington. Great news, he'll be bringing the live show to Europe this spring in support of Rejjie Snow and on his own to the UK. But the biggest news is: you can catch Wiki at Futurum Music Bar in Prague on 28th March!
In 2009 Patrick "Wiki" Morales, a Puerto Rican-Irish mutt teenager, was looking to explore beyond his born neighborhood of the intellectually rich, culturally diverse area of the Upper West SIde of Manhattan. And like every kid his age, Wiki was itching to explore the underbelly of the island - downtown Manhattan. It's a migration that's cultivated the 23-year-old young rapper we know today: an authentic New York City analyst who has become the voice of a generation, making Wiki one in a million.
Out of the dark, damp basements and hot crowded galleries of downtown Manhattan, is where Ratking defied the odds and began to sprout. Through the guidance of downtown creatives Aaron Bondaroff and Ari Marcopoulos and like-minded outsiders, Wiki, Sporting Life, Hak formed Ratking soon releasing "Wiki93" (2012) and "So It Goes" (2014). Released to rave reviews, Ratking catapulted into a world of local underground success, proving to a new generation of hip hop listeners that the rules of the past can be broken albeit with respect. Out of Ratking grew new genres of hip hop, a resurgence in DIY production and a shrewd lyricist in Wiki, whose youthful observations of Manhattan's chaotic ecosystem were extraordinary.
No longer under the protective shelter of adolescence, Wiki accepted his destiny and stepped out on his own. Using the lessons of his collective efforts with Ratking, Wiki took on adulthood and independence within "Lil Me", his 2015 mixtape on Letter Racer. Tackling issues of life on the road, coming of age in Manhattan, first loves, bad blood, and all the emotional reckoning in between the two extremes. Bringing on board old friends - producer Alex Epton, Sporting Life, King Krule - and experimenting with some new ones too - Skepta, Kaytranada, Black Mack - Wiki stepped out and up on "Lil Me" turning to himself, instead of Manhattan, to be the protagonist of his first solo effort.
"No Mountains in Manhattan" is a journey through the trials and tribulations of a coming to age experience in New York's most populated borough. Entirely crafted in XL's New York City studio, the album is New York to the core - featuring local emcees, from legend to novice. While Wiki's 2015 mixtape, "Lil Me", was a snapshot into the youthful energy of an artist on the brink of adulthood, "No Mountains in Manhattan" finds the now 23-year-old artist facing his demons head on as he tackles topics such as addiction, relationships, identity, and responsibility. "No Mountains in Manhattan" is an introspective narrative of Wiki's life over the past year - a narrative that all young adults can relate to - a journey of peaks and valleys, of loss and gain, with a conclusion of understanding.
"No Mountains In Manhattan" is Patrick "Wiki" Morales thesis on present day Manhattan. Provided by his studies of the streets of his city. Illuminated by the hyperbole of his imagination. A bibliography filled with names from the community that nurtured him. Bringing to life the sounds of his city that give pulse to the cast of characters that give Manhattan it's soul, "No Mountains In Manhattan" demonstrates that Wiki is the city's bard, telling the stories of now to be heard by generations to come.
Tracklist

1. Islander (produced by Alex Epton)

2. Mayor (produced by Tony Seltzer)

3. Pretty Bull (produced by Tony Seltzer)

4. Made For This ft. Ghostface Killah (produced by Tony Seltzer and Adrian Lau)

5. Chinatown Swing (produced by Sporting Life)

6. Litt 15 ft. Your Old Droog (produced by DJ Earl Teklife)

7. Face It (produced by Alex Epton and Sly C)

8. Stick Ball (produced by NOLIFE)

9. Elaine (produced by Wiki)

10. Pandora's Box ft. Evy Jane (produced by Dadras and Sporting Life)

11. Wiki New Written (produced by randomblackdude)

12. Jalo (produced by Black Mack)

13. Nutcrackers ft. Lakutis (produced by Wiki, Alon Sicherman and Alex Epton)

14. Baby Girl (produced by Kaytranada)

15. NMIM ft. ACAB, Slicky Boy (produced by Tony Seltzer)

16. Leppy Coqui
Tourdates

| | | |
| --- | --- | --- |
| Fri 09 Mar 2018 | Bristol, England | Motion Bristol |
| Sat 10 Mar 2018 | Exeter, England | Lemon Grove |
| Mon 12 Mar 2018 | Dublin, Republic of Ireland | The Olympia Theatre |
| | | |
| Thu 15 Mar 2018 | Paris, France | Le Trianon de Paris |
| Fri 16 Mar 2018 | Roubaix, France | La Condition Publique |
| Sat 17 Mar 2018 | Amsterdam, Netherlands | Melkweg |
| Sun 18 Mar 2018 | Köln, Germany | Club Banhof Ehrenfeld (CBE) |
| Tue 20 Mar 2018 | Hamburg, Germany | Uebel & Gefährlich |
| Fri 23 Mar 2018 | Stockholm, Sweden | Debaser |
| Sat 24 Mar 2018 | Copenhagen, Denmark | Pumpehuset |
| Mon 26 Mar 2018 | Berlin, Germany | Lido |
| Tue 27 Mar 2018 | Warsaw, Poland | Teatr Warsawy |
| Wed 28 Mar 2018 | Prague, Czech Republic | Futurum Music Bar |
| Fri 30 Mar 2018 | Fribourg, Switzerland | Fri-Son |
| Sat 31 Mar 2018 | Lyon, France | Le Sucre |
| Sun 01 Apr 2018 | Zurich, Switzerland | Dynamo |
| Mon 02 Apr 2018 | Munich, Germany | Ampere |
| Wed 04 Apr 2018 | Bologna, Italy | Locomotivclub |
| Thu 05 Apr 2018 | Milan, Italy | Circolo Magnolia |
| Fri 06 Apr 2018 | Strasbourg, France | La Laiterie |
| Sat 07 Apr 2018 | Brussels, Belgium | Orangerie |
| Mon 09 Apr 2018 | Nantes, France | Stereolux |
Wiki Headline Run

11/04 - Night & Day, Manchester, UK
13/04 - Shipping Forecast, Liverpool, UK
14/04 - Headrow House, Leeds, UK
15/04 - Green Door Store, Brighton, UK
16/04 - Thekla, Bristol, UK
18/04 - XOYO, London, UK
20/04 - The Workman's Club, Dublin, Ireland
Wiki Album Release
DOCX - 309 Kb
Stáhnout
Wiki Biography
DOCX - 97 Kb
Stáhnout