Princess Nokia: For The Night - new video from shape-shifting New York MC
A Girl Cried Red - Princess Nokia's new emo-inspired mixtape is already out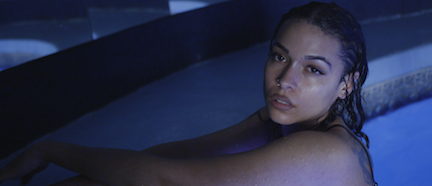 "A Girl Cried Red" is the new self-described "emo mixtape" by Princess Nokia. The mixtape is out via Rough Trade Records and will be available on limited edition red vinyl on June 22. On May 3 the dynamic and outspoken New York rapper—aka Destiny Frasqueri—released the video for track "For the Night," picking up where the video for first single "Your Eyes Are Bleeding" leaves off. Watch the video directed by Milah Libin and Frasqueri, pre-order the vinyl and stream "A Girl Cried Red" here: http://rtrecs.co/forthenight.
Watch the video HERE!
Listen to the new mixtape HERE!
The shape-shifting emcee has been releasing music via YouTube and Soundcloud since she was in high school and catapulted herself to the next level with her 2017 album "1992 Deluxe" —selling out venues across the globe and steadily gaining tens of millions of streams. Last weekend, Princess Nokia were returned home to New York City to perform two sold out headline shows at Brooklyn's Elsewhere. See all upcoming tour dates below.
"A Girl Cried Red" showcases another fully formed side of Destiny that still taps into the uncompromising feminist ideology of Princess Nokia, and will undoubtedly cement her place in the alternative underground as well as the hip-hop world. Read more about the mixtape's inspiration via Dazed and hear more about her influences and her ode to all things emo/pop/punk on premiere episode of her bi-weekly Beats 1 Radio show, Voices In My Head.
"BORICUA POWER" is the latest episode of her Beats 1 show and is a special one for Frasqueri, as she covers many important facets to Nuyorican Culture and her identity as an Afro Puertoricena Mujer (Women). The show has also recently been picked up for a second season.
RECENT PRESS QUOTES ABOUT PRINCESS NOKIA
"...Frasqueri's talk of bleeding eyes and stories of heartbreak aren't so much a genre throwback as they are part of a new future that she is helping forge, one that moves far beyond what its forebears could have imagined." - The New Yorker
"She's a versatile, imaginative talent with a knack for shape shifting." - Los Angeles Times
"Princess Nokia has built quite the following as an outspoken, mystical iconoclast, who deftly and effortlessly glides from genre to genre. She's a little bit rock and roll, a little bit singer-songwriter, always with the spirit and soul of hip-hop anarchy." - Paper Magazine
"Princess Nokia (Destiny Nicole Frasqueri) is one of the strongest voices in rap right now, as she puts her feminism, Nuyorican identity and emo sensibility at the forefront of her music and public persona." - Chicago Tribune
"Princess Nokia channels the hyper-emotional feels of 2000s emo on 'Your Eyes Are Bleeding,' an over-enunciated, head-bopping mini-masterpiece." - The FADER
"Instead of waiting for an invite to the melodramatic party, Princess Nokia counters the male gaze that the emo scene can shamelessly thrive on, presenting a fresh narrative from the mind of an Afro-Latina with her A Girl Cried Red mixtape." - MTV / TRL
"straightforwardly cathartic: a welcome departure from an already eclectic artist" - Tiny Mix Tapes
"The deeply introspective rapper/multi-purpose artist/all-around maven's A Girl Cried Red mixtape was a quality excursion through the emo genre." - Uproxx
"Princess Nokia stands adjacent to a new generation of rappers now referred to as "SoundCloud rap," many of whom have cultivated lo-fi textures and are unselfconsciously owning references to bands like Linkin Park and Papa Roach. But unlike them, A Girl Cried Red is an expression of Frasqueri's artistic and emotional versatility, not of her defining aesthetic — and because of that, she transcends them." - NPR Music
Bonus: check out this 14 page Office Magazine cover feature
A GIRL CRIED RED TRACKLIST

Flowers & Rope
Your Eyes Are bleeding
For The Night
Look Up Kid
Interlude
Morphine
At The Top
Little Angel
PRINCESS NOKIA TOUR DATES
12th May - Miami, FL - Rolling Loud Festival
25th May - Barcelona, Spain – Secret Location TBA
26th May - Madrid, Spain - Tomavistas Festival
27th May - A Coruna, Spain - Inn Club
31st May - Athens, Greece - Piraeus 117 Academy
1st Jun - Copenhagen, Denmark - Distortion Festival
2nd Jun - London, UK - Field Day Festival
16th Jun - Richmond, CA - FEELS 6 @ Craneway Pavillion
7th Jul - Turku, Finland - Ruisrock
8th Jul - Zamárdi, Hungary - Balaton Sound Festival
13th Jul - Dublin, Ireland - Longitude Festival
14th Jul - Dour, Belguim - Dour Festival
15th Jul - Berlin, Germany - MELT Festival
19th Jul - Benicassim, Spain - Benicassim Festival
20th Jul – Lisbn, Portugal - Super Bock
21st Jul - Seyðisfjörður, Iceland - LungA Art Festival
18th Aug - Hamburg, Germany - Dockville Festival
20th Aug - London, UK - O2 Forum
21st Aug - Leeds, UK - Belgrave Music Hall